CancerFree Biotech Wins National Innovation Award for Novel Ex Vivo Cancer Drug Sensitivity Testing Platform
CancerFree Biotech was one of seven winning teams recognized for outstanding innovative technology at the prestigious Award Ceremony for the 18th National Innovation Awards on December 17, 2021. The National Innovation Awards are presented annually by the Ministry of Economic Affairs in Taiwan to top innovators and developers of novel technology for the year, and past winners have often been able to secure international investment and collaboration agreements that can significantly boost research and development.
CancerFree Biotech is currently engaged in the development of a novel ex vivo platform to assess tumor sensitivity to anticancer drugs, using circulating tumor cells that are easier to obtain through minimally invasive methods. This platform has the potential to revolutionize the process of treating cancer and reduce the time and costs associated with trying and waiting to see if treatments are effective in patients. The CancerFree Biotech platform enables multiple treatments to be tested in a high throughput manner, allowing the selection of only the most effective treatment(s) from a large pool of anticancer therapies. Furthermore, the platform can also be used to track patient response to treatment and facilitate early detection of drug resistance, thereby ensuring that cancer never gets a break to recuperate.
During the Award Ceremony, CancerFree Biotech made a short but effective pitch to a panel of international venture capital funds, which are seeking targets for a total pool of US$ 6 billion in investment. This is not the first instance of international collaboration for CancerFree Biotech; the company has a US subsidiary, and has several ongoing collaborative projects with universities and medical institutions in the US, Japan, and Europe, in addition to Taiwan.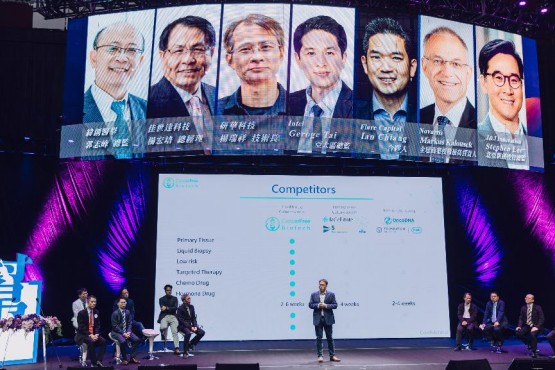 The CancerFree Biotech platform is undergoing clinical validation in a wide range of solid tumors, with promising results published or in publication. Future studies at additional sites in a range of countries and in diverse populations are being planned.