Introduction on Development and market opportunities of Taiwanese  EV Industry
30 Nov 2022
@
10:00
–
12:00
CET
'Introduction on Development and market opportunities of Taiwanese EV Industry' will be held on Wednesday 30 November 30, 2022, to promote cooperation with the Netherlands Electric Vehicle Association (DOET) and create business opportunities between the corporates and startups between Taiwan and The Netherlands.
Through the Public-Private Partnership (PPP) structure, we hope to create another success story of enterprise cooperation between Taiwan and the Netherlands. The Taipei Representative Office in the Netherlands, the Taiwan Business Association in the Netherlands, and Tiger Accelerator, jointly cooperate with Dutch Regional Development Agencies through a Public-Private Partnership (PPP) structure to create a new platform for Taiwan's start-ups to soft land on the Netherlands. The aims of this PPP structure are to help Taiwan start-ups to go global through business coaching and matchmaking with business opportunities and co-investment.
During the meeting, Taiwanese experts will introduce the development and business opportunities of Taiwan's EV and Charging station industries, the Secretary-General of the DOET Association will introduce the association, and the new Taiwanese members of DOET will introduce their companies and opportunities for further cooperation. Then the matchmaking reception will be held to enhance the exchanges and understanding between the companies of Taiwan and the Netherlands.
The main purpose of this briefing is to promote cooperation between the Taiwan-Dutch EV industry
We welcome all the members of DOET and TBANL and corporates, and startups to participate in the meeting.
If you cannot come in person, you are welcome to attend online.
If you are interested in attending, please fill in the registration form before 11 November, and reply to Mr. Wang's email: jpwang@sa.moea.gov.tw. Thank you.
Please refer to the English version of the agenda of the inspection briefing session and the introduction of the DOET Association.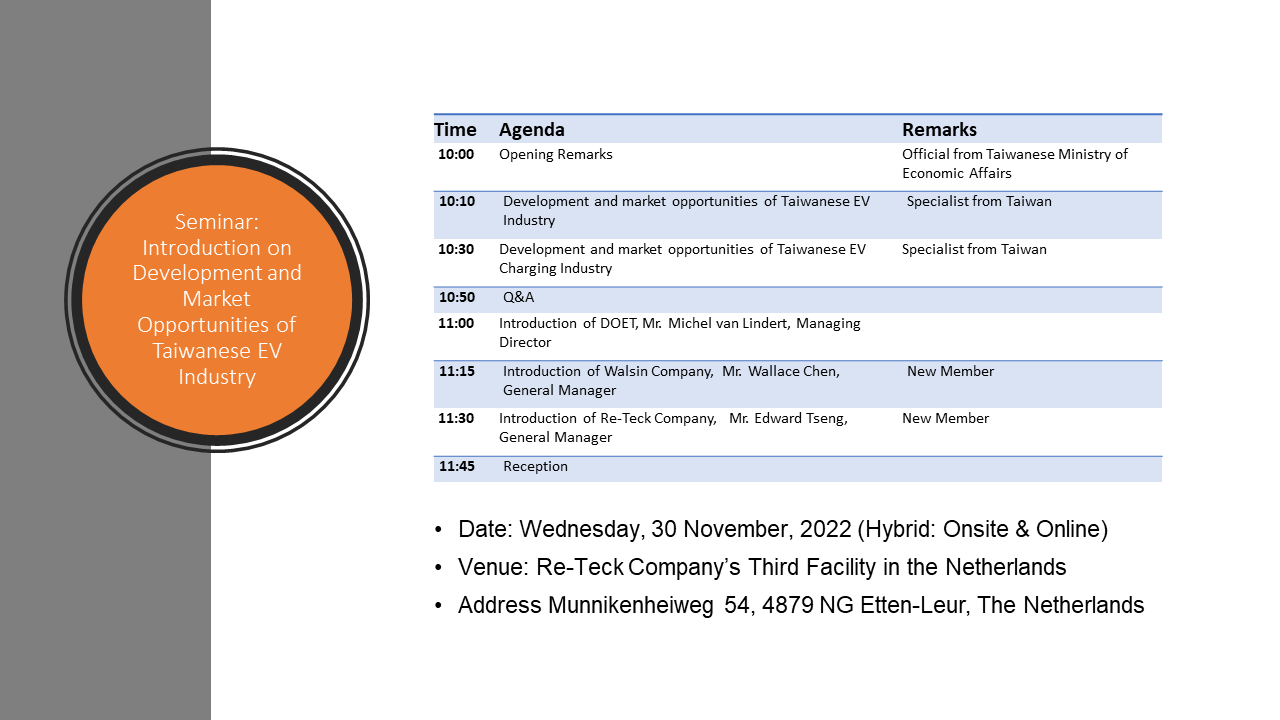 Taipei Representative Office in the Netherlands (TRON)
jpwang@sa.moea.gov.tw