TAIWAN BUSINESS DAY 2020 #TBD20
8 October @ 10:00

-

12:00

UTC+1

Free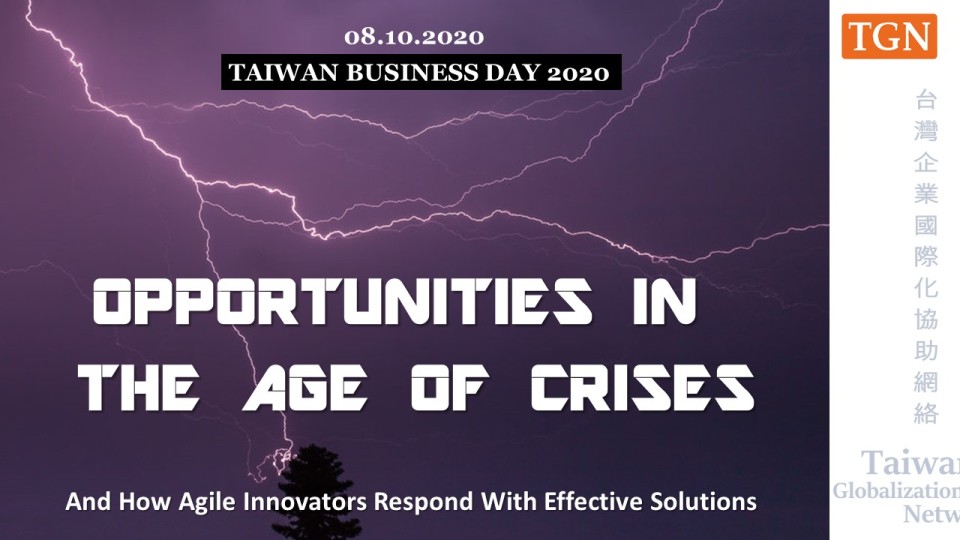 Opportunities in the age of crises
and how agile innovators respond with effective solutions
For the 9th time, TGN organizes Taiwan Business Day in The Netherlands, the main event for Dutch entrepreneurs to learn about the culture and business opportunities in Taiwan. This year's special attention will go to the theme ''Opportunities in the age crises" – on how agile innovators respond with effective solutions and how soft landing programs in both Taiwan and The Netherlands can be effectively used to grow your innovative business.
Please do register by 5 October ber 2020 for for .–> REGISTER >> here <<
WHY TAIWAN BUSINESS DAY?
First of all, Taiwan is a regional production and innovation powerhouse in the Far East, 'made in Taiwan' is a quality brand on its own. On top of that Taiwan is known for its quality of living standards and ease of doing business. In that regard, it really has advantages over neighboring countries. Where The Netherlands is the Gateway to Europe, Taiwan is the Gateway to the East of Asia which is illustrated with six large Taiwanese corporations in the Fortune 500 like Foxconn and Quanta Computers, but also the high number of Dutch companies already operating there such as Philips and ASML.
FOR AMBITIOUS ENTREPRENEURS, START-UPS AND SCALE-UPS
The Taiwanese and Dutch economies have many similarities, an open economy with a large export focus. SME's play the main role in both countries, both in the service industry as in production and as suppliers of large corporations. General differences are that Taiwanese companies have traditionally focused on outsourced production and Dutch companies on design, trade, and services. In recent years both countries have moved to top regional rankings on innovation and start-up climate, showing that both economies are going through rapid renewal processes. That's why Taiwan Business Day offers opportunities for young companies and scale-ups from both countries – to match/mix and succeed.
TAIWAN BUSINESS DAY 2020 'GO DIGITAL'
This year we'll organise the first-ever hybrid (on- and offline) version of Taiwan Business Day, and as always will offer you information about business opportunities in Taiwan. TGN has invited key people from Taiwan, so you can have direct access to them. Spend 2 hours to expand your horizon!
PROGRAM
Taiwan Business Day 2020 (TBD20) will be organised online as well as at coworking space JIM in Utrecht. It includes a seminar to help you understand the Taiwanese opportunities and help you with your business expansion strategy. Taiwan Business Day ends with an online networking event to expand your international business network.
10:00  Demo floor opens (Virtual demo room, continued at the demo floor at EBU Get Connected 2020 starting at 13:00)
10:15 online Seminar 'Opportunities in the age crises'- and how agile innovators respond with real solutions
Moderator: Pim de Bokx 
10.15 Welcoming remarks –Jaap Breugem (ROM Utrecht) 

10.20 Welcoming remarks – Klaas Verschuure (Utrecht city)

10.30 Action Plan for Enhancing Taiwan's Startup Ecosystem – David JP Wang (Taipei Representative Office)

10.40 Why collaborating with Taiwan innovation ecosystem –Jaap Breugem (ROM Utrecht)

10.50 Dutch entrepreneur successful in Taiwan – Mike van der Vijver (Orange Gibbon)

11.00 Regional Accelerator Program for Innovation & Development (RAPID) en TBA -innovation committee Gordon Chen

11.10 Utrecht Science Park (USP)-Dutch innovation ecosystem: Mr. Friso Smit (Utrecht Science Park) or Freek van Muiswinkel (Utrecht University)

11.20 Closing remarks – Mrs. Hsin-Hsin Chen (Taipei Representative Office)

11.30 WeScale Challenges Awards: Klaas Verschuure and Mrs. Chen
11:30  Award ceremony WeScale Challenge.
11:35 Taiwan Innovation Ecosystem Video live stream
Taiwan Business Alliance (video) – Invest Taiwan

Taiwan can help! Taiwan in global innovation hub (video) – BioHub Taiwan

Easy business expansion with Taiwan Startup Terrace (Linkou) Soft-landing program – Mila Chung (Startup Terrace) (video)

GO SMART – Best Dating Platform of Looking for Taiwanese Smart City Partners – Chen-Yu, Lee & Anita Chen (GO SMART) (video)

Video USP (Utrecht Science Park)

Video UU (Utrecht University) – Covid-19
12:00 Program end