Taiwan Business Day 2016 in Utrecht
26 Sep 2016 @ 13:30

-

17:30

UTC+1

free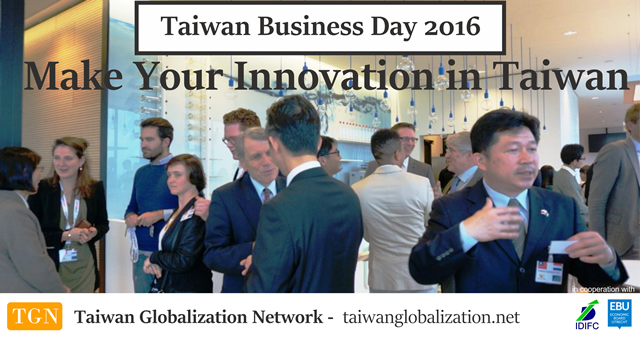 Taiwan Business Day 2016
UTRECHT 26 SEPTEMBER
Do you own or manage an innovative start-up, small or medium sized company, and are you considering opportunities abroad? Meet your potential business partners and support organizations for the Far East – during an intensive afternoon seminar.
Why Taiwan? 
Taiwan is world leader in many innovative technologies and its companies continue to stay on top of new developments. Taiwan and The Netherlands have a lot in common, with a long trading history going back over 400 years.  Both are internationally renowned as trading nations, and the business gateway to their regions. Taiwan has a western style legal system and has well developed support system for innovative companies also from abroad. The 'Maker infrastructure; from Fablab to Foundry' makes Taiwan a great place to go for technology and production partners. Ánd Taiwan is also growing as a soft-landing hub to access markets like Japan and China.
Program
Taiwan Business Day is organised together with EBU and it's Taiwanese counterpart IDIPC. The main objective of #TBD16 is for you to meet Taiwanese organizations, entrepreneurs and support organisations. The program includes a seminar to help you understand the Taiwanese opportunities and help you with your business expansion strategy. Taiwan Business Day ends with a networking event to expand your international business network.
13:30 Welcoming drinks & registration
14:00 Opening & Welcome
Mrs. Valerie Hsu (TGN director)
Mr. Jeroen Kreijkamp (Vice Mayor, City of Utrecht)
Mr. Tom Chou (Representative of Taipei Representative Office in the Netherlands)
Dr. Chia-Long Lin (Mayor, City of Taichung) 'building the Taiwan-Netherlands Soft-landing Bridge together'
Dr. Lu (Taichung Economic Director) 'Why Taiwan/Taichung is the best place to source technology and production partners for your global expansion'
Jaap Breugem , Director International Business Relations (EBU) 'The benefits of the Utrecht ecosystem and Soft Landing Program'.
15:00 The regions of Utrecht and Taichung go into a MOU to develop a cooperation around innovation & entrepreneurship in the months to come.
15:10 Tea Break
15:25 Taiwan-Netherlands Innovation Seminar 'Make Your Innovation in Taiwan!'
Nettie Buitelaar (BiosanaPharma) 'How the Dutch-Taiwanese combination revolutionizes the global biological drug production'
Thierry Bouffioux (mentor StartupBootCamp Accelerator) 'How to leverage Taiwan based start-up technology for European R&D'
Dr. Lewis Chen (ITRI/TRIPLE) 'How to get into a win-win Cooperation with Rapid Innovation Prototyping League of Entrepreneurs'
Wrap-Up and Q&A
16:30 Networking event
18:00 Taiwan Business Dinner – separate registration at € 32,50 p.p. (excl) at tbd16-dinner.eventbrite.com
moderator: Pim de Bokx (TGN Chairman)
ANNOUNCEMENT: Only registered AND participating entrepreneurs and managers of a company based in the Netherlands can win the 2 week business exploration trip to Taiwan (value € 3.500)
PARKING
: Choose P1 or P3 at Jaarbeurs. The event is in Beatrixgebouw (Room 117, first floor) of the Jaarbeurs, which is connected to the Central Station. SEE:
plattegrond-jaarbeurs-2-beatrixgebouw