Taiwan Business Day 2014 in Rotterdam
DOWNLOAD: Taiwan Business Day 2014 FLYER 2.6
Do you have a small or medium-sized business and want to look for opportunities abroad? Meet your potential business partners and service providers who can help you in Taiwan and the Far East.
This year we have a special focus on opportunities for young innovative companies. We have Mr. Michael Lai, CEO of Aeon Astron Europe BV and Mr. Willem van Weperen, CEO of to-BBB willing found his experience with doing business in Taiwan to share with us. We have again put together an exciting program for you for June 23rd from 12:15 in the Rotterdam Science Tower in Rotterdam.
Why Taiwan?
Taiwan is world leader in many innovative technologies, and its companies continue to stay on top of new developments. Taiwan and The Netherlands have a lot in common, with a long trading history going back over 400 years. Both are internationally renowned as trading nations, and the business gateway to their regions.
Program In addition to B2B matchmaking, we have an exciting program planned for June 23 in Rotterdam, where you can meet Taiwanese organizations and entrepreneurs! Mark your calendars and please join us! The program includes a seminar to help you with your business expansion strategy, a networking event, and opportunities for one-on-one meetings with potential business contacts. A special invitation goes to companies looking to expand their business abroad.
PROGRAM
12:15 Seminar Registration
13:00 Opening Taiwan-Netherlands Business Seminar by Pim de Bokx, Chairman of Dutch Incubation Association (Chair of the Seminar)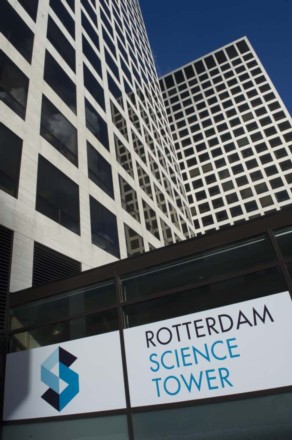 13:00-13:03 Welcome Remark by Hendrik Halbe, Director or of Erasmus Centre for Entrepreneurship (ECE)
13:04-13:07 Opening Remark from Jacob van der Vis, Advisor of Chamber of Commerce in Rotterdam
13:08-13:10 Opening Remark from Johnny Yeh, Director General of SMEA, R.O.C. (Taiwan)
13:10-13:20 MOU Signing Ceremony & Gift Exchange
13:20-13:30 "How Tech Venture Club assists start-ups to stand local and go global" from Steve Hsu, ITRI
13:30-13:40 Softlanding package accelerates "go global" from Valerie Hsu, TGN
13:40-14:30 Taiwanese Enterprises Presentations (5)
14:30-15:00 Successful Stories of Europe- Taiwan Cooperation
>>> Mr. Michael Lai, CEO of Aeon Astron Europe BV
>>> Mr. Willem van Weperen, CEO of to-BBB
15:00-15:10 Taiwan- Europe Co-incubation Program from Jane Liu, Chaoyang University of Technology
15:10-15:25 Video & Break
15:25-15:35 Co-working Space & Rotation Training Program for benefiting European Enterprises from Richard Chen, ITRI
15:35-15:45 Not just funding but also added value networking and support, from René Reijtenbagh, BAE
15:45-15:55 Incubation Center and Internationalization Program from Poki Chen, NTUST
15:55-16:45 Taiwanese Enterprises Presentations (5)
16:45-17:50 Networking & drinks
FREE Participation!!! Registration NOW!! http://ppt.cc/PbqH
How to go to Rotterdam Science Tower,
It is about 3 minute walking distance from Marconiplein Rotteram Metro Station. Due to the limitation of parking space, it is more convenient to take public transportation.
1. By public transportation: Plan your journey (http://9292.nl/en#)
2. Parking garage is available at the next building to Rotterdam Science Tower. Advance registration is required on first come, first serve basis.