On 2nd Oct 2018, about 150 Taiwanese & Dutch experts participated the event Taiwan Business Day 2018, to understand the opportunities in Taiwan and the Netherlands and help with potential business expansion strategy. This year's focus was on Healthy living.
Mr. Tai-chu Chou, the ambassador of Taipei Representative Office in the Netherlands  gave the opening speech. This is the 4th time that he has participated in the Taiwan Business Day event. Participants' number increases each year. Recently, the topic in the health care & AI industry are very popular. Statistics reveals that Taiwan has ideal health system which ranks top 5 around the world with reasonable price, the most ideal city to live for experts: No1. In Asia, No. 2 in the world. As for Taiwan's sufficient talents, IPR environment, and strong in semiconductor, earlier 2018, IBM google, Amzon agreed to set their R&D center in Taiwan. All combination makes Taiwan a strategic place to invest. He also mentioned: compared with last year, Taiwan has 102% tourism increase to the Netherlands. The Netherlands' education & technology are well known in the world, together with its strategic location. It is indeed an ideal country for Taiwanese start-up to find their place to land in EU.
Mr. Jelle van der Weijde, Domain Manager Health,Economic Board Utrecht(EBU) introduced the climate in Utrecht and the function of Economic Board Utrecht  (www.economicboardutrecht.nl). Utrecht is the center of the Netherlands. It faces the issues that most developed countries, climate change and aging population. How to make happy elderly and digitization with the robot & high tech are some of the focus areas in Utrecht.
Based on the long term relationship built between Taiwan and the Netherlands, we would like to strengthen the collaborations in the healthcare domain. Utrecht is a health hub with 45 organization in the region. How to transform health in 3 pillars: prevention, digital transformation, human capital? Utrecht works with a Penta-helix model: government with citizens, NGOs, institutions work for tomorrow, to find out solutions to overcome societal challenge, no matter rich or poor, health or sick.
In terms of city scale, Utrecht and Taipei are comparable. Utrecht provides various soft landing programs for trade and invest team in Utrecht Medical Center, e.g. corporate a field lab works with Quanta Research Institute, also establish venture capital between Utrecht and Taipei.
Take home: If you want to have a soft landing, you have to jump first.
Currently we face several  societal challenges. Therefore, we strive to find out what driving people based on behavioral science, also in the field of food & health for the future of city, to provide right products & payments (the cheapest product is not the healthiest.). Citizens in Utrecht could be rich but lonely.
Can Utrecht & Taiwan develop solutions for societal challenges together? We are open and looking forward to your participation.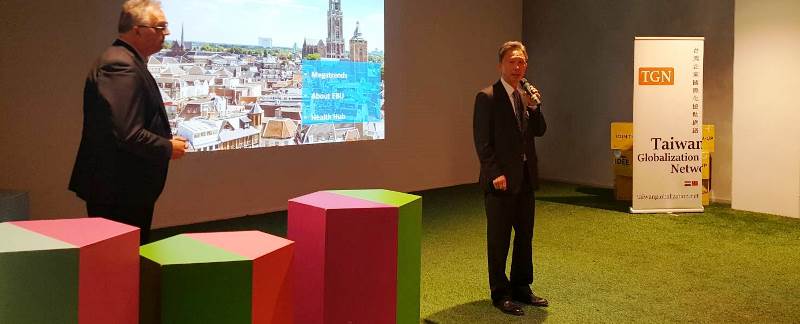 Hsu-Wei Fang, Distinguished Professor of National Taipei University of Technology, also the founder of Biotegy Corporation, shared his experiences and business opportunities. The first contact with EU can be dated back to 2011, as a guest speaker to present in EBN congress in Toulon, France.
Biotegy Corporation works with distributors, doctors, commercial sectors and collaborates with people in different stage of the value chain e.g. R&D, engineering, Sales & Marketing in different stage of licensing. Currently the business operation focuses mainly on medical device.
Biotegy provides all-round service from product development to pilot production, combining the needs of clinicians and market access. The current expertise in the technology of orthopedics, dentistry, orthopaedy, minimally invasive.
Biotegy's up/downstream teamwork offers a cost-effectiveness business model by reducing the clients' employee & development cost, while increase their profit. We look forward to build a solid partnership with the Netherlands for more business opportunities.
Ms. Anna Elferink, Foreign Investor Relations Manager of Province Utrecht briefly explained the environment of setting a company here in the Netherlands: friendly, easy, no need to register a capital threshold now. Easier to find people to work in Taiwanese companies. No language barriers.
Some other barriers could be to open an bank account, but it's easier to be solved under government's help. For example:
Sponsorship: Knowledge ID could be  issued within 2 weeks.
Living environment: good.
Purchasing cost: lower than in Taipei.
Happiest country for children (No. 1).
Peter Yang shared his personal experiences about setting a company in the Netherlands:
Started the business in 1991, he experienced some good but also difficulties. One of the challenges is in labor hiring: for some manpower with bad performance, it's difficult to get rid of them.
Ms. Anna Elferink responded: a well-defined contract, qualified HR, law firm, and to consult good organizations for the issues will help to solve the problems. Government also willing to provide necessary support.
Leonard van Nispen, Business advisor of Utrecht City Living Lab presented the current project regarding societal challenges that Utrecht faces, also actions taken.
Utrecht locates in the center of the NL, connects with all infrastructure in the EU, also the central part of meter pole. It is a historical city building for the future younger generation, 2nd place comfortable (1st is London) and 4th rapidly growing city around the world.
The healthy urban living environment is built for all business issues. People also strive for work/ life balance. Sustainable projects are launched for future name-solar panel, no gas, less energy.
Foreign companies give their testimonials as the super location, good connection as a gateway with the rest of EU cities, even small rivers plays important roles. Universities, research institutes and private industry all share knowledge, both in human & animal factors.
About 30% of the mortality rate causes by cancer. A solid oncology research environment has set up in Utrecht. For exmple, Prinses Máxima Center for Pediatric Oncology has been established aiming to share knowledge with the America & Asia.
Utrecht has strong connection with Taichung & Taipei city, with whole heart with Taiwan.
Anja van der Aa, Director of HealthNL (GezondNL), who has citizenship in Utrecht East for 30 years, presented shared the Citizens Cooperation ) opportunity for upscaling in communities) in Wijkinformatiepunt Utrecht Oost (community information point Utrecht East) by QOCA-tablet using experiences.
The scale up project started with a pilot with 25 Dutch elderly participants, age from 60 – 100 years old. Even though one of the participants (100+ y/o) died after 1+ week, but he liked the pilot programme because he received many attentions than ever. The family appreciated the programme a lot.
In the beginning, most of practical questions came from how to use the tablet, and received mainly positive feedback. Elderly citizens feel they can still learn high tech and be connected with the society. A further 2.5-year plan is on the way to develop more users and build up more collaboration, targeting 2,000 participants in 3~5 communities. Special needs family will receive government funding.
Take home: If you don't involve the citizens in the town, you won't never get anything. GP can involve into certain extent but won't initiate any programme!!
René Reijtenbagh, Vice President, Business Angels Europe, introduced the business angels Cross-border network covered both EU & non-EU countries. It plays risk capital provider/ coaching role for acceleration. Currently there are more than 150 angels. Start-up/scale-up companies, including health care, med-tech, digital, food, agri-food, and chemical sector are welcome to introduce their business operation for potential financing.
Business Angels Europe help to file the application (translate to the relevant government documents), connect right contacts & expand markets in certain countries, also help foreign companies to find local angels to expand the market, and acquire money from investors, of course. The funding sources include EU 2020, Patient organization, or even from the US.
The current capacity is more than 100 angels.

Mr. JJ Jan, founder of Ourhub Europe BV, showed the trend in the business world moves from centralize in the past to decentralize for now and future. Channels changing a lot so whoever can control the channel is the winner. New Biz Model like pop-up shops or connect shops arise. For example, Kylie Jenner, a famous German internet celebrity, takes about 40% market share of cosmetic products from L'Oréal.
Big brand has no margin, while small brand has no money. Therefore, bigger one becomes bigger, small one just disappear. Shopping trends also change: Experience v.s. Referrals, Centralization v.s. Decentralization; Social selling v.s. Pop-up shops.
Ourhub offers the solutions of brands hub with digitized data, Merchants' hub with fulfillment service by brands, Influencers' hub with affiliate programs for foreigner companies to land in the Europe, focused on user experiences. Everyone is influencer, no need to be a big brand!
Klaas-Jan Bolt, Market Connector of Uzelf presented the support Utrecht Region can offer for soft landing: By finding needs of citizens & professions, instead of pushing, trying to find needs. Always find solutions to solve problems, mainly pre-validation & Prevention.
Several initiatives are processing for now:
Tinybots: social robot for elderly
Home care institutions
Tovertafel: together with the Children's hospital and recovery center
Citizens are the No.1 client because they close to daily activities. Uzelf is able to access launching customers, product validation, business model validation, test-environment in hospitals and education institutions.
Nawal Bahia El Idrissi, Business Developer- Innovation – Funding strategy of Catalyze elaborated the services offered by Catalyze, who can bridge the funding gap for scientific breakthroughs, in all stages of company development and funding need, such as seed, early, expansion and later stage, for biomedical and healthcare innovations, also ICT, eHealth and big data fields.
The one stop funding solution provides the knowledge and specialized services to support researchers, entrepreneurs, start-ups and companies. The strategic funding covers equity financing schemes, cash grants, business incubation schemes, debt-financing schemes, tax incentive schemes, and industry-specific tax incentives.
We help companies to acquire grants from jungle!
Dominic Chan, First Secretary, Economic Division, Taipei Representative office in the Netherlands provided reasons and advantage of investing in Taiwan. The one-stop investment services content educated manpower( 49% bachelor's degrees of higher and 12.95% researchers of total population), cutting-edge R&D institutes in wild range, covering bio-tech, IT, Textile, metal, automobile, and so on. The industrial clusters is ranked No.2 in world-wide economic forum in 2017. IP regulations meet international standards with global rankings in entrepreneurship, state of cluster development, low investment risk, and best investment destination.
The strategic geographic location is like a silicon valley in Asia, not replicating a Silicon Valley in Taiwan, but linking Taiwan with Asia and Silicon Valley, with plenty of opportunities in IoT, smart machinery, bio-pharmaceuticals, green energy, national defense, new agriculture and circular economy.
Start-up/ Scale-up ecosystem aims for a global connection. Welcome to Taiwan!
Ms. Nina Chou, CEO of Tiger Accelerator Taipei
TGN was established in 2008, exactly 10 years later, Tiger Accelerator Taipei was established in 2018.
Partners: with academia, government agencies, and industries to show the business model & experiences for Startup process.
Taiwan Explorer Award, lucky draw:
Winners of the 2 week innovation & business missions to Taiwan, including flight tickets:
Gina Yang from Screenpoint Medical  in Nijmegen, ticket sponsored by China Airlines
Michael Lai from Aeon Astron in Leiden, ticket sponsored by EVA air.