Following the successful Taiwan Ophthalmic Forum held in Paris last September 16th, it is now setting its Eyes on the United States. 2019 Taiwan Ophthalmic Forum 'Eyes on the Future' will be held in conjunction with AAO 2019: Inspire!, the largest gathering of ophthalmologists in the Americas.
With the strength of the ICT/optical technology and great scale of manufacturing capability, Taiwan has been positioned as a strong leader in device product development. Armed with the excellent medical research environment, ophthalmic device manufactures in Taiwan deliver the best opportunity for your future ophthalmic device.
To better understand and take advantage of the coming business opportunity with Taiwan ophthalmology development, Industrial Technology Research Institute (ITRI) will hold the "2019 Taiwan Ophthalmic Forum" to bridge the local manufacturers and product/service providers to international partners and research organizations with the most innovative and state-of-the-art ophthalmic devices.
You are cordially invited to attend this great event and jump into the fast-growing ophthalmic industry with the latest technology at your hands.
Date / Time: October 14, 2019 15:30~17:30
Venue: ALX by Alexander's Steakhouse, 680 Folsom St, San Francisco
Innovation Leaders scheduled to speak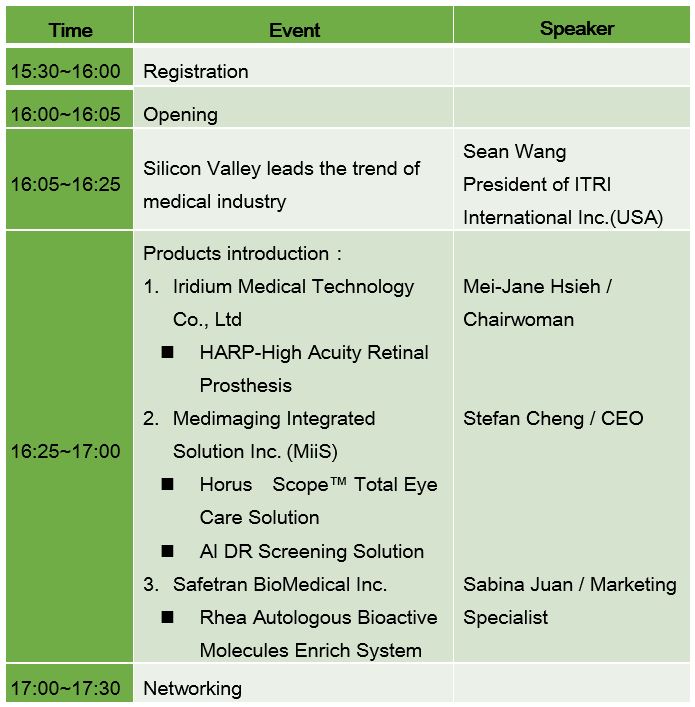 Contact window
Industrial Technology Research Institute (ITRI)
* Ian Chien (ianchien@itri.org.tw )
* Bo-Gaun Chen (bogaun.chen@itri.org.tw)