Event: Pitching for Expansion Sustainable Impact 2020Q4
Date: Friday 30 October 2020
Time: 9:00-10:00 CET (16:00-17:00 TW)
Register here before October 28, 2020
Location: Virtual Event (Live Stream via TGN Facebook)
Co-Organizer: TAcc+, Economic Board Utrecht (EBU), Startup-Utrecht, Taiwan Globalization Network (TGN), Tiger Accelerator
Taiwan Innovation Fair & Share 2020 on the Whova Platform is ongoing until November 6, 2020. More partners will co-organize and co-create events and product demos
'Pitching for Expansion: Sustainable Impact scheduled on Friday 30 October, 10:00-11:00 CET. TAcc+ and Tiger Accelerator will recommend 5-6 Taiwanese startups to join the 'Pitching for Expansion for Sustainable Impact ' on Friday 30 October, 10:00-11:00 CET.
Background
The Coronavirus has left us all with feelings of uncertainty about the future. However, during Taiwan Innovation Fair & Share 2020 we offer you the opportunity to come in contact with some of the most prestigious (inter)national companies!
Taiwan Innovation Fair & Share 2020 will offer you diverse online events with companies. From speed dates, workshops, cases, and many more! Pitching for Expansion Sustainable Impact 2020Q4 is focused on start-ups, scale-ups, and spin-offs interested in the field of innovative solutions applicable in the health & medical industry.
What's in it for you?
• Meet leading companies in the fields of MedTech, Retail, Marketing, IT, Strategy & Consultancy, and Finance!
• Get in contact with your future business partner through multiple informal and formal activities.
• Hear all about relevant topics through the inspiring stories of interesting companies
Get ready to be inspired and amazed by what the future has in store for you!
DEADLINE: Register now here before October 28, 2020
❗ You can find out more information about the event via www.taiwanglobalization.net❗ Any more questions? Don't hesitate to contact us at contact@taiwanglobalization.net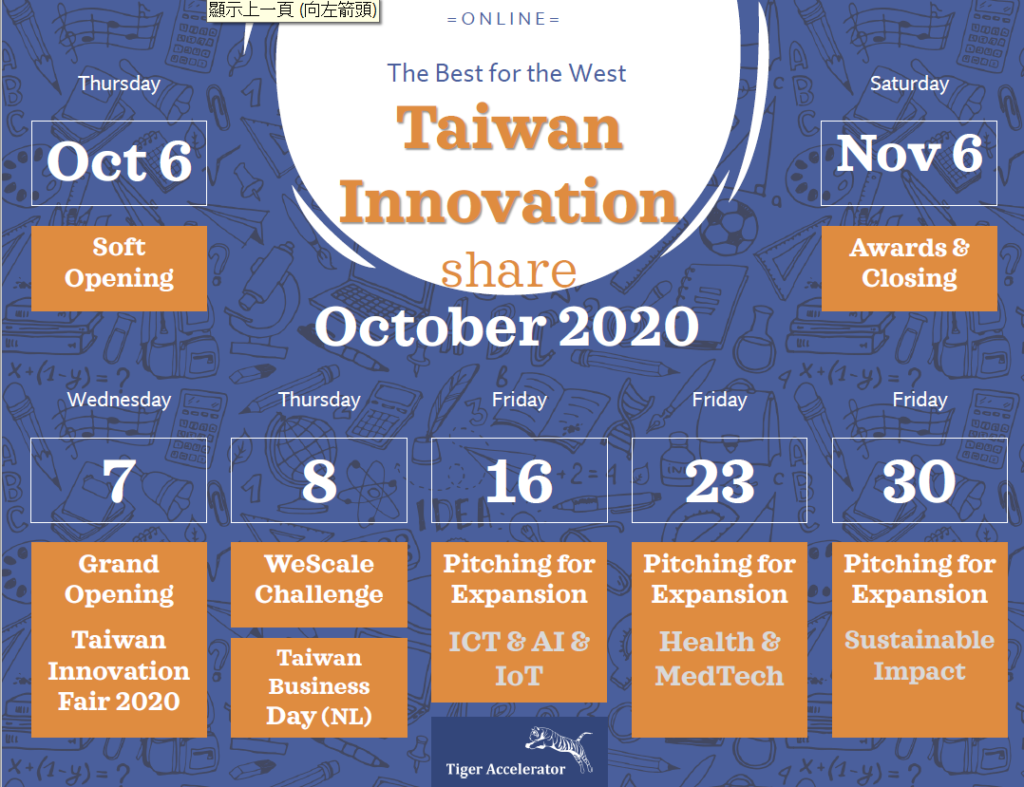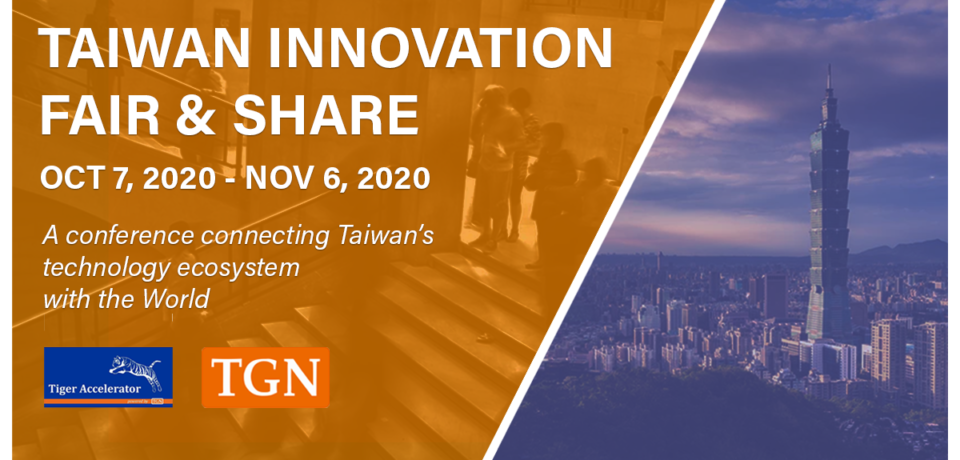 Taiwan Innovation fair&share 7 October – 6 November 2020
Date: October 7 – November 6, 2020 Location: Virtual conference for pitching, matchmaking, and dealmaking, and more virtual booths (v-booth): @Taiwan Innovation, or taiwaninnovation.com. Theme: A virtual conference connecting Taiwan's technology & innovation ecosystem with the World. Our virtual conference is open for registration as co-created event platforms, for all booth organizers, keynote speech, product … Continue readingTaiwan Innovation fair&share 7 October – 6 November 2020TGN – Taiwan Globalization Network