Acer is well known for its consumer electronics, from PC to VR. It is also developing innovative Cloud and Artificial Intelligence solutions for society. Recently Acer introduced VeriSee DR, an AI tool that uses clinical data gathered from a large number of people living with diabetes to diagnose Diabetic Retinopathy much earlier than with currently available diagnosis tools. With only 40% of people with Diabetic Retinopathy currently diagnosed in time, this solution will save the eyesight of millions of people globally. Acer will be presenting VeriSee DR at Taiwan Ophthalmic Forum in Paris on the 16th of September, where all relevant stakeholders are gathered for the ESCRS conference.
Diabetic Retinopathy
Diabetic retinopathy, also known as diabetic eye disease, is a medical condition in which damage occurs to the retina due to diabetes mellitus. It is a leading cause of blindness. Diabetic retinopathy affects up to 80 percent of those who have had diabetes for 20 years or more. Vision lost to diabetic retinopathy is sometimes irreversible. However, early detection and treatment can reduce the risk of blindness by 95 percent. Because diabetic retinopathy often lacks early symptoms, people with diabetes should get an eye exam at least once a year. Diabetic retinopathy can be treated by photocoagulation. This laser treatment, also known as focal laser treatment, can stop or slow the leakage of blood and fluid in the eye.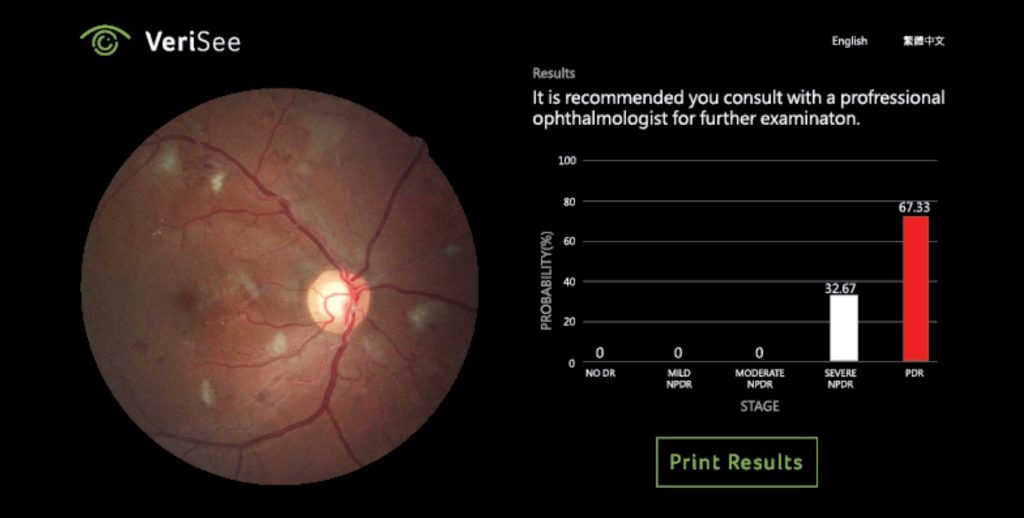 VeriSee DR – AI aided diagnosis of Diabetic Retinopathy
Based on high resolution colorized fundus pictures the artificial intelligence of Acer makes the fast diagnosis of diabetic retinopathy and the stage it is in available for ophthalmologists. The current DR-screening rates globally are low because of the high costs and efforts. That has changed with the introduction of Acer's VeriSee DR tool which can be easily integrated into first-line preventive eye examinations.
Taiwan Ophthalmic Forum – Eyes on the Future
Paris, 16/09/2019 16:00-19:00 more info
Interested to make these innovative diagnostic instruments part of your distribution portfolio, want to meet the people behind these innovations, like Associate Vice President Y.H. Hsu? Ask us to be invited for this exclusive occasion.