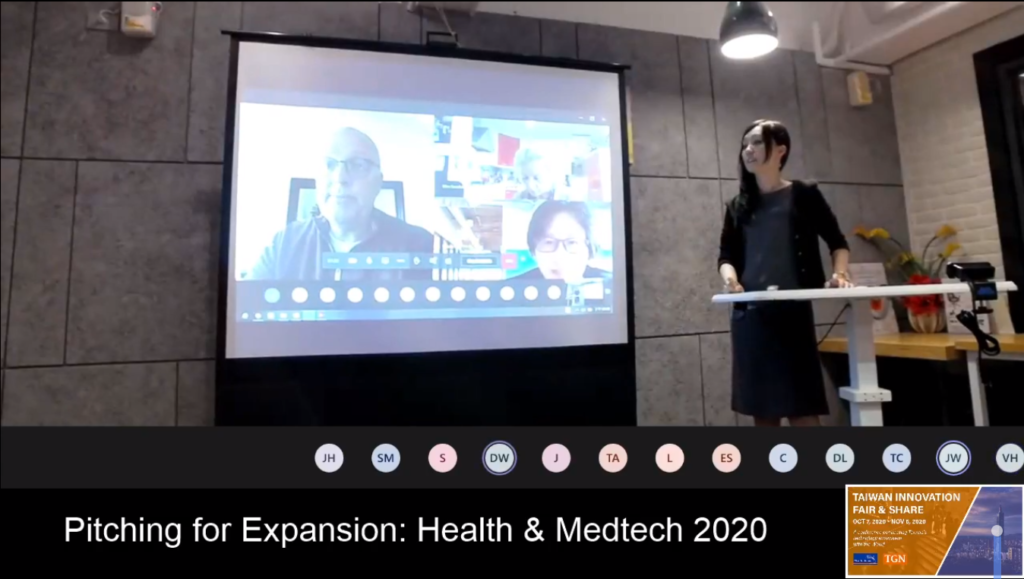 Pitching for Expansion (P4E) is a joint initiative by Business Angel Europe, Tiger Accelerator & TGN. It is an event where companies in Europe and Asia with the ambition for international expansion present their pitches to investors, providers of loans and subsidies as well as to other business experts specialized in internationalization.

The P4E session that took place on October 23 2020 was organized in collaboration with the InnoMed Project in Taiwan, and had its focus on the Health & Medtech sector. In this hybrid edition of the event, attendees participated both in an offline location in Taiwan's Hsinchu Science Park and online in a virtual conference room. Four companies from Taiwan and one company from the Netherlands presented their businesses to a jury composed of governance leaders and industry experts in the Netherlands. The companies that presented their pitches include:

Singular Wings Medical, a company working on healthcare and medical devices including hardware design, software development and cloud platform services, with a particular focus on ECG signal sensing and applications.

Acheloy Biomed, a company committed to providing non-invasive and effective biomedical technologies for all patients to improve their quality of life, with a focus on skincare products for the elderly, long-term care, and beauty markets.

Honeywld Technology, a company specialized in cloud computing, smart applications, and healthcare-related IoT technology. Honeywld has a focus on home care, smart hospitals, and smart long-term care solutions. Its core technology is manifested in its MyGuardian product, a high-accuracy indoor positioning fall detection solution.

i-Navi Biomedical, a company specialized in developing image-assisted/robotic surgical navigation systems for neurosurgery and orthopedic surgery.

Swanborn Illustrating, a company producing medical illustrations, animations, and medical card games. The medical card games are aimed at children & younger patients, and they aim to promote an understanding of medical conditions, as well as promote the patients' self-direction in treatment and their therapy compliance.

After deliberation, the jury had selected the 1st and 2nd place winners for this P4E session. The 1st place was won by Honeywld Technology. The 2nd place was won by Singular Wings Medical. The winners of the P4E session will receive the price of match-making opportunities with potential investors in Europe, as well as free consulting hours provided by TGN, Tiger Accelerator and partners, aiming at assisting the companies in their plans to expand in the international market.

See the full session in the following video:
Taiwan Innovation Fair & Share is a month-long on- and offline conference organized by Taiwan Globalization Network (TGN) and Tiger Accelerator between October 7 and November 6. The conference highlights Taiwanese technology, innovations, and business opportunities to an international audience. To connect with the companies participating in the P4E Health & Medtech session, as well as other Taiwanese innovators in the medtech, AI & IoT sectors, please sign up for the event to meet them in the conference's virtual exhibition hall: http://taiwaninnovation.com/