Soteria Biotech, a startup from Taipei city won the TGN Taiwan Innovation Award to enjoy Uzelf FastForward50 product validation services
Sleep disturbance is one of the key factors that affecting the quality of life, due to this, the quality of sleep has become the focus of many countries. Obstructive Sleep Apnea (OSA), is one of the key sleep disturbances that affects the quality of sleep. OSA patients are prone to have sleep disruption and hypoxemia, which is associated with cardiovascular diseases; poor quality of sleep increases probability of having traffic accidents. Due to the fact that the number of beds in sleep centers are limited, the time it takes for patient to wait for examination are very long, plus the treatments for OSA patients such as CPAP is expensive and inconvenient, various types of oral appliances on the market are tormenting. Therefore, it is very important to have experienced clinicians to make clinical diagnosis and using technology to have an accurate analysis.
Soteria Biotech realizes this need and combines medical image analysis, computational fluid dynamics, solid mechanics, cloud computing, and big data analytics to develop an assistive software product that can help clinician to make diagnosis and treatment of OSA in a fraction of time compare with traditional method. The applications of the software has been published in World Sleep Congress and Asia Society of Sleep Medicine.
The CEO of Soteria Biotech, Mr. Hung-Ta HSIAO says the pediatric OSA attracts more attention recently in the western world, according to the statistics, about 15% of children have OSA, but about 90% are undiagnosed. Children with OSA are prone to have symptoms such as hyperactivity and attention deficit which has a great influence on the learning ability. Due to the fact that it is extremely difficult to examine children in a sleep study, it is difficult to make a diagnosis and that is also the reason why such a high percentage of children are undiagnosed. The product from Soteria Biotech can solve this problem by providing fast evaluation of the child's airway and assist clinician make diagnosis and earlier treatment if necessary.
It is worth mentioning that Soteria Biotech won the TGN Taiwan Innovation Award, which grants the FastForward50 program! FastForward50 is a product validation solution launched by Utrecht Uzelf where the product is going to be tested by 50 people in 50 days. The award is worth €25,000! Uzelf is a service platform founded by the Utrecht province industry, government, and academia that are related to self-management and health management. With its vast network of contacts, it can effectively match startup team and decision makers into partnership and provide a one stop all-round service. Uzelf and TGN (Taiwan Globalization Network) / Tiger Accelerator had an agreement that using Utrecht's ecosystem to rapidly validates product and solution and connect to the Netherlands and Europe.
The ultimate goal for Soteria Biotech is to provide the public with a professional medical information and diagnostic platform, make ourselves and patients in need healthier, with a better quality of life.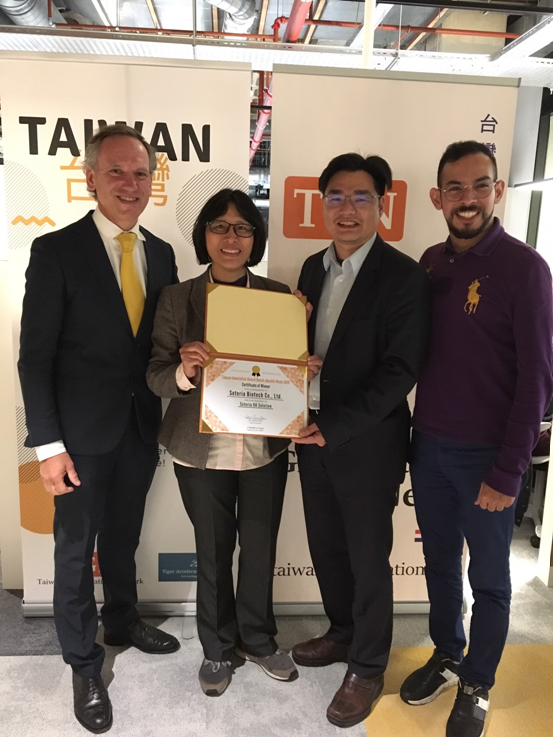 Leonard (Left most), Utrecht in Business, witnessed the award ceremony when Valeri Hsu (Middle left), founder of Tiger Accelerator, awards Dutch FastForward50 award to Hung-Ta Hsiao (Middle right), CEO of Soteria Biotech.