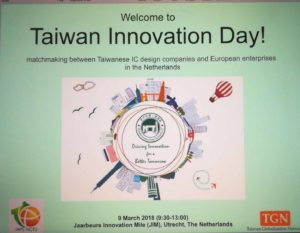 Press Release – Utrecht 9 March 2018
Hsinchu Science Park Taiwan which focuses on international large-scale industrial exhibitions and future development trends of the major manufacturers supports the IC design industry to grab opportunities in Europe.
Visiting the Netherlands, France and the United Kingdom during 8 – 16 March 2018, the Hsinchu Science Park Bureau brings along IC design companies from Hsinchu Science Park Taiwan to start a dialogue with European companies to find business matchmaking opportunities. Companies looking for cooperation in technological projects are welcomed. Focus is on the rapid and continuous growth of technologies in the field of artificial intelligence, AR/VR, unmanned operation, and IoT applications.
On 9 March, 2018, the Taiwan Innovation Day is organized at JIM (Jaarbeurs Innovation Miles) in Utrecht, the Netherlands. The event will help Taiwanese IC design companies to conduct business matchmaking with Dutch companies and is highly valued by the City of Utrecht.
The director of the Economic Development Bureau of the City of Utrecht offers a personal warm welcome to the Taiwanese IC design industry delegation representatives. This Taiwan Innovation Day is supported by the local organizations, Taiwan Globalization Network (TGN) and JIM. Through this matchmaking event, Taiwanese IC design companies have a good chance to connect to Dutch companies interested in a future business cooperation. More than 50 people are participating in this event. Matchmaking areas include: long term care technology, smart cities, smart homes, smart factories and other applications. Taiwanese IC design companies will reap considerable benefits from the matchmaking event for future market entry and business expansion in Europe via the Netherlands.
The delegation will also participate in the "Wearable Technology Show (WTS)"; hosted in the UK, in order to learn about new market trends for wearable smart devices, Internet of Things and others. Hsinchu Science Park Bureau hopes, through the activities of this delegation, that Taiwanese IC design companies expand their business on a global level, identify market demands for technology outline new directions for product development, and ultimately obtain substantial benefits ranging from market knowledge to orders and further opportunities for Taiwan's semiconductor industry.