Congratulations!
TBD20: WeScale pitch event winners

UTRECHT, 8 OCTOBER 2020 – The WeScale pitch event 2020 is successfully finised. First of all, we would like to thank every one of you for participating, on behalf of the organizing committee Startup Utrecht ( Heerd Jan Hoogeveen), TGN (Valerie Hsu), and EBU (Jelle van der Weijde).
Of course, we would have preferred to meet all of you live (and healthy) here in Utrecht, but that is simply not possible. So thank you for your flexibility and especially your flexibility in dealing with the technical challenges that are always involved in this kind of setup.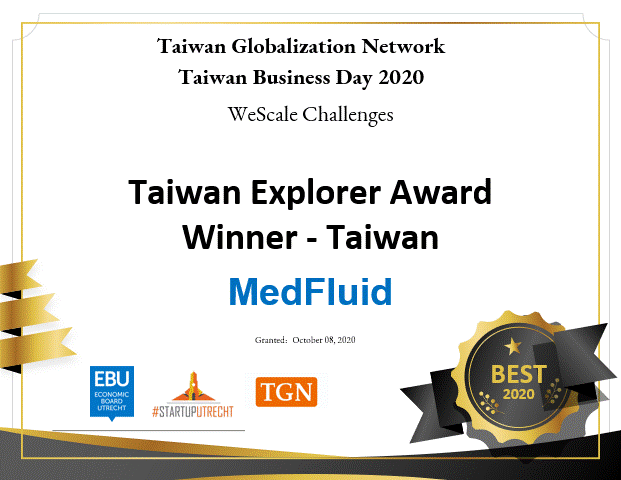 And the Winners are
We would like to confirm and announce with this press release the result of the TBD20: WeScale pitch event. The jury had a hard time because it is really competitive, and decided that the winners are:
From Taiwan
Medfluid
TargetTrust & 2. Manysmart

Startup Utrecht will connect the winners from Taiwan to make the necessary arrangements to make use of your prizes.
From the Netherlands
Redkubes
Dialogue Trainer

TGN will contact you in order to make the necessary arrangements your soft-landing packages in Taiwan (live or virtual).
Heerd Jan Hoogeveen, director of Startup Utrecht has presented the EVA Air Tickets to our 2 Dutch winners, Redkubes and Dialogue Trainer.
For those of you that did not win: thank you for participating and I am sure that we will be in touch at some point in the future!