Tiger Growth Forum 台荷成長論壇
Date: February 11th., 2019
Time: 16:00 – 19:00 Hrs TW
Venue: Taipei Co-Space 臺北創新實驗室
Theme: WHY and HOW to enter Europe 為何/如何進入歐洲市場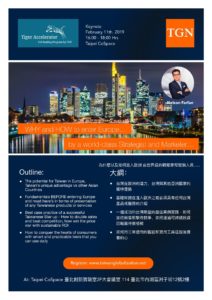 Register here
Facebook: https://www.facebook.com/events/287665532106966/
Download flyer:
Tiger Growth Forum February 1th. Nelson Farfan Espada copy
Tiger Accelerator has launched Tiger Growth Forum since 2019. We will invite the keynote speakers to present all the important themes to inspire and support your internationalization venture, especially to Europe.
Our first keynote speaker is Mr. Nelson Farfan Espada, a world-class Strategist and Marketer…. Nelson will speak on the theme "business strategy and marketing planning" for 2 hours, 16:00 – 18:00 Hrs (including Q&A), followed by the Happy Hour Drink till 19:00 Hrs. We will also exchange some gifts, etc.
Theme: WHY and HOW to enter Europe by a world-class Strategist and Marketer…
Outline:
• The potential for Taiwan in Europe, Taiwan's unique advantage vs other Asian Countries
• Fundamentals BEFORE entering Europe and must have's in terms of presentation of any Taiwanese products or services
• Best case practice of a successful Taiwanese Star-up – How to double sales and beat the competition, how to win the price war with sustainable ROI
• How to conquer the hearts of consumers with smart and practicable tools that you can use daily
Register for free for the first 50 participants. Please cancel at least 24 hours in advance, to avoid no-show costs for NT$ 2,000. Let's appreciate the valuable resources to be shared with our friends, who really need it.
Please register here or email your questions to cindy.chen@tigeraccelerator.com and tgn@taiwanglobalization.net
-company name, website, email address, mobile, LINE, # of participants and their names.
For more information, please refer to Tiger Accelerator.
Organizers:
TGN AND TIGER ACCELERATOR
TGN offers exclusive opportunities to Taiwanese entrepreneur to access and succeed on the European market. TGN was able to secure this unique opportunity to win a FastForward50 program participation, the first time it will be open for a company from outside The Netherlands! See our website: www.taiwanglobalization.net
Tiger Accelerator is setup by TGN to offer integrated fast-track programs to succeed on the European market through co-innovation, market access and soft-landing. See our website: www.tigeraccelerator.com
Taipei Co-Space
Advisors:
Venue: Taipei Co-Space No. 12, Zhouzi Street, Neihu District, Taipei City, Taiwan 114  (Phone: +886 2 8751 5503)
自2019年起,台荷加速器將推出台荷成長講座,邀請來自各國的專題講員,提供台商如何成功地加速國際化跨國發展的議題。春節后開工第一天上班日 2/11,我們將在臺北創新實驗室舉行新年團拜,用歡樂的氣氛,聆聽以歐洲商業發展策略和行銷規劃的專題演講,祝福大家新年新希望!好的開始是成功的一半!!可能還有驚奇的禮物交換!
主題:為何/如何進入歐洲市場 由世界級的戰略家和營銷⼈人員主講……
大綱:
• 台灣在歐洲的潛力,台灣與其他亞洲國家的獨特優勢
• 基本工作是必須在進⼊歐洲之前,準備好關於任何台灣產品或服務的介紹
• 一個成功的台灣創業團隊的的最佳案例實踐 – 如何加倍銷售和擊敗競爭,如何通過可持續投資回報贏得價格戰
• 如何用日常使用的智能和實用工具征服消費者的⼼
報名:本活動爲免費參加,前50個報名參加者優先。
報名后若無法參加,請務必在24小時前取消,否則必須承擔NT$ 2,000的缺席成本,將好機會讓給有需要的夥伴。請各位惜福,珍惜資源,好東西與好朋友共享,感謝協助轉發!
請填寫基本資料–》報名
若有任何問題,請隨時聯係:cindy.chen@tigeraccelerator.com and tgn@taiwanglobalization.net
-company name 公司名稱, website, email address, mobile, LINE, # of particiants 參加者人數姓名,有想到歐洲發展的意向等
請隨時關注台荷加速器更多報導。
Facebook: https://www.facebook.com/events/287665532106966/
臺北創新實驗室