TAIPEI, June 25 2019 – On the 16th of September 2019 in Paris, five world leading ophthalmic innovators organise an exclusive event in the Mercure Port Versailles to connect with the most advanced medical organisations in Europe. If your organization wants to be in the front seat, obtain your personal invitation quickly, the numbers are limited.
With the strength of the ICT/optical technology, and great scale of manufacturing capability, Taiwan is a leader in medical device innovation. Armed with the excellent medical research environment, ophthalmic device manufactures in Taiwan deliver the best opportunity for future advanced treatments of vision and eye related diseases.
To better understand and take advantage of the future opportunities with Taiwan ophthalmology development, Industrial Technology Research Institute (ITRI) will hold the "2019 Taiwan Ophthalmic Forum" to connect the international distributors, partners and research organizations with the most innovative and state-of-the-art ophthalmic device innovators.
You are cordially invited to attend this great event and jump into the fast growing ophthalmic industry with the latest technology at your hands.
Taiwan Ophthalmic Forum Paris
Date & Time: September 16, 2019 16:00~19:00
Venue: Hotel Mercure Paris, Porte de Versailles Expo, Meeting Room: Elysées 3
Address: 36-38 Rue du Moulin, 92170 Vanves
Program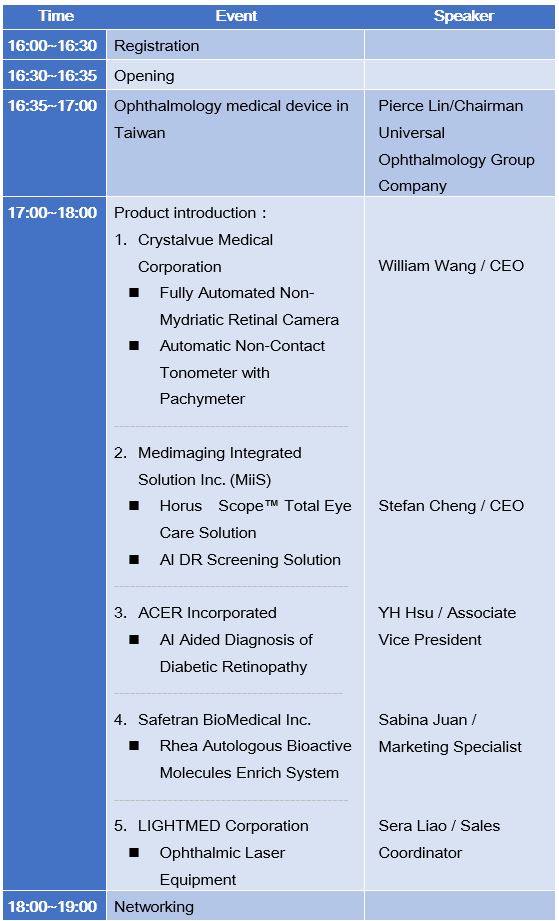 Enquiries & Press
Presenting Innovators: DOWNLOAD overview of companies & products
TGN – Valerie Hsu tgn@taiwanglobalization.net
ITRI – Ian Chien ianchien@itri.org.tw
Organised by