Crossroads 2020 is a 4-day event initiated by StartupUtrecht, with the aim of creating opportunities for startups, scaleups, corporates, investors and other stakeholders in different entrepreneurship ecosystems to connect with each other and share innovative ideas.
Download all slides here

Within the framework of Crossroads 2020, TGN & Tiger Accelerator organized the 'Best Practice in Soft-Landing Programs between Taiwan and the Netherlands' hybrid webinar on November 18. Experts and leaders from innovation ecosystems in both geographic regions showcased examples of successful systematic collaborations and exchanges between the two communities. The webinar was presented to an online audience via livestream, and simultaneously to an on-site audience in Taipei's Startup Terrace Linkou.

The first part of the webinar consisted of a series of expert presentations:

David JP Wang (Economic Division Director, Taipei Representative Office) gave a brief overview of the startup ecosystem landscape in Taiwan, introducing key information about the size of the startup economy in Taiwan, the channels of government support in this area, the various private organizations servicing this ecosystem, the existing sources of domestic & international funding for startups, and more.

Mila Chung (Strategic Partnership Manager, Startup Terrace) presented facilities and services offered to Taiwanese & international startups at the Startup Terrace in Taipei, including working space, accommodation, testing environments for technology solutions, networking opportunities and various business services. Other benefits offered to startups include awards, grants, and tax incentives.

Jelle van der Weijde (Domain Director Health, Economic Board Utrecht) gave a presentation about the competitive advantages of the Utrecht Region as an entrepreneurship ecosystem, and extended on the existing framework for collaboration between the ecosystems in Utrecht and Taipei.

Steve Huang (Tiger Accelerator) gave a briefing on the Hub2Hub Project: an initiative to build a softlanding connection between startups and resources in Taiwan and Europe. The project's operation involves supporting entrepreneurs via three pillars: co-innovation (joint R&D, subsidies, etc), market access (market research, localization, etc), and co-acceleration (training, matching with investors, etc).

Patty Yen (Director, TAITRA, Taiwan Trade Center Rotterdam) acquainted us with the work of Taiwan External Trade Development Council (TAITRA), emphasizing the INNOVEX platform: a channel presenting international startups at COMPUTEX Taipei, one of the world's largest ICT & technology industry trade fairs.

Gordon Chen (General Manager, Megabank Amsterdam Branch) spoke on behalf of the Taiwan Business Association in the Netherlands Innovation Committee, and highlighted successful cases of collaboration and partnerships between innovative Taiwanese and Dutch companies, including the partnership between ASML and Taiwan's TSMC. The TBA Innovation Committee was set up in August 2020, and aims to foster more similar collaborations.

The second part of the webinar was a panel discussion among the expert speakers, highlighting the various factors that impact a soft-landing program's effectiveness. Some key themes in the discussion included the importance of defining participation criteria for selecting the ideal startup candidates, as well as the importance of realizing nuances in responsibilities between the startups and other stakeholders in a soft-landing program.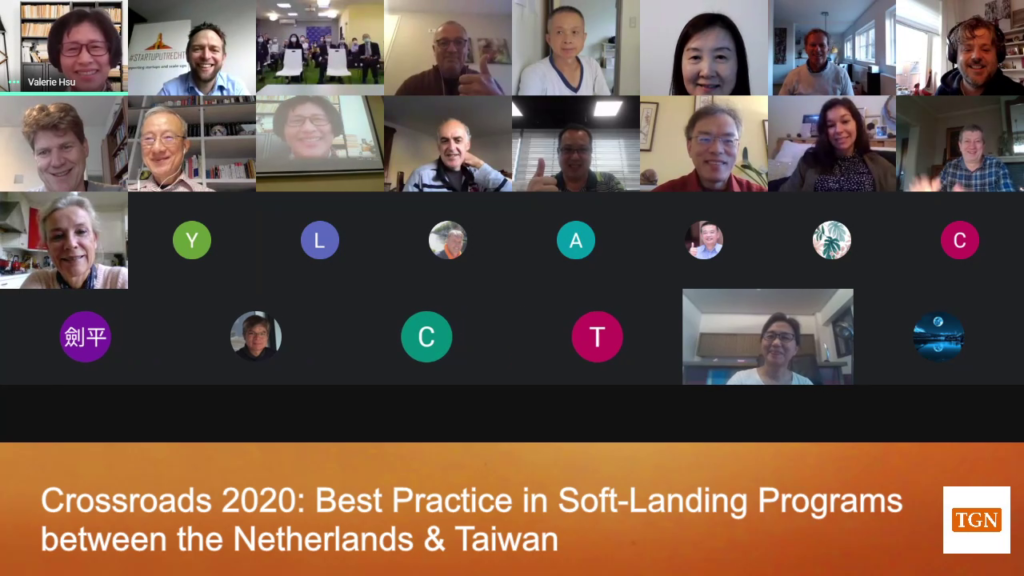 To re-watch the full webinar, please visit TGN's Facebook page:
https://www.facebook.com/269104479896972/videos/833606214078792
To learn more about Crossroads 2020, please visit this link: