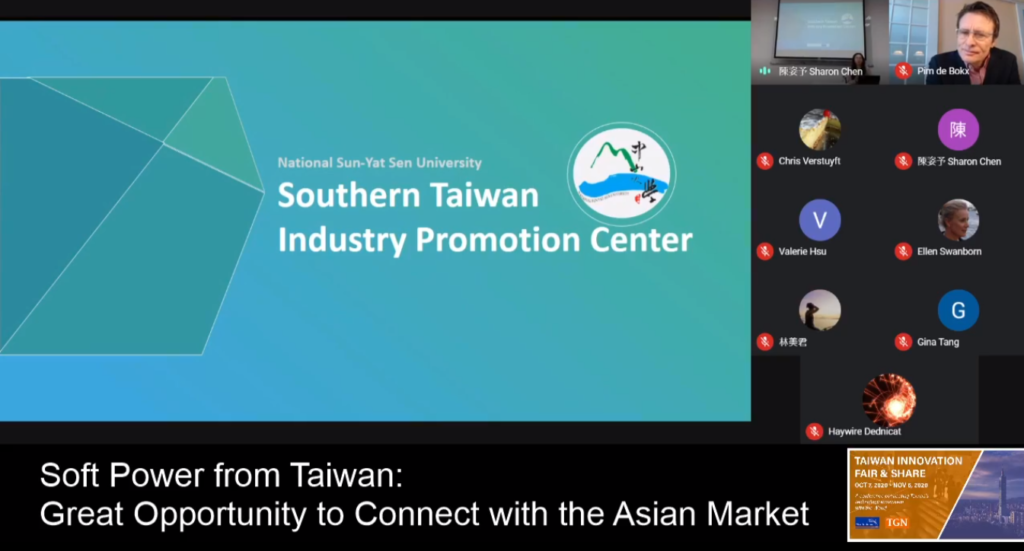 The 'Soft Power from Taiwan: Great Opportunity to Connect with the Asian Market' webinar was organized by the Southern Taiwan Industry Promotion Center (STIPC) and TGN. The event took place on October 27 2020. During the webinar, leaders from STIPC and innovators from Taiwanese start-ups introduced Taiwan's technology entrepreneurship ecosystem to an international audience in an online livestream.

The webinar was composed of three presentations. The first presentation was given by Eve Huang, Manager at STIPC. In this session, Huang introduced the STIPC organization, as well as the role it plays in Taiwanese technology ecosystem and the services it offers. The STIPC serves as a bridge between Taiwanese ICT/IoT technology industry, Taiwan's government, and international business stakeholders that are interested in investment and expansion opportunities in Taiwan. A highlight of STIPC's current offerings is the Southern Taiwan IoT Service Hub: a platform that provides all services an IoT start-up might need, including product development & design support, marketing research support, matchmaking with manufacturers & retailers, product validation sites and more.

The second presentation, 'The Language Power of Asia', was given by Juohao Li, Founder of Frontier Technology. In this session, Li gave an overview of Frontier's AR/VR solutions for learning the Mandarin Chinese's language. In a world changed by the pandemic, online learning has become a major area of growth in the education sector. However, current means of remote learning often has the problem of low interaction, low student motivation, and low learning efficacy. Frontier's AT/VR technology tackles these problems by providing an immersive and interactive virtual learning environment for language students, which also incorporates AI for voice recognition & pronunciation check in dialogue practice scenarios.

The third presentation, 'The Medical Power of Asia', was given by Brian Leu, Founder of MWG Technologies. MWG is a company specialized in providing user-friendly in-bed monitoring solutions for hospitals and long-term care centers. In this session, Leu introduced the key technology from MWG, the MyGuardian Smart Care system, which monitors the patients' respiration, sleep, and in-bed movements, with the capacity for real-time alerts and long term tracking. In the context of infectious diseases, such a system with robust remote monitoring capabilities can reduce the risk of infection for care professionals, while still maintaining an accurate tracking of the patients' conditions at all times.

To watch the full webinar with the accompanying slides, please follow this link:
https://www.facebook.com/TaiwanGlobalizationNetwork/videos/1795188367285759
Taiwan Innovation Fair & Share is a month-long on- and offline conference organized by Taiwan Globalization Network (TGN) and Tiger Accelerator between October 7 and November 6. The conference highlights Taiwanese technology, innovations, and business opportunities to an international audience. To connect with STIPC and the companies presenting in the webinar, as well as other Taiwanese innovators in the medtech, AI & IoT sectors, please sign up for the event to meet them in the conference's virtual exhibition hall: http://taiwaninnovation.com/