Pre-Webinar briefing 4 August 2020, 10:00-10:45CET
Invitation
To all ambitious entrepreneurs and startup-teams in The Netherlands and beyond we offer you this opportunity to prepare yourself for global expansion through our program. We proudly present Taiwan as a Scale-up hub to access our wide resources and ecosystem for your benefit. When you're active in the field of IoT, eHealth, or related fields, you can participate for free!
Your first step is to participate in our online program: TAcc+ International Program 2020 Taiwan (4x webinars scheduled on Fridays August 14, 21, 28, September 4, 2020), which is now open for registration! Everyone is eligible to attend the free webinars.
You may register for 4x webinars (or at least 1x webinars) without uploading your Business Plan (BP) at this stage.
You may upload your BP by September 11, 2020, to join the selection for 'TAcc+ In-depth Business Development Services'
Register here
For details, please download slides:
TAcc+ In-depth Business Development Services Taiwan
5 top international startups/SMEs selected after completing TAcc+ International Program 2020 Taiwan
Provide customized in-depth business development service, free of charge, which includes:

Market Analysis & Recommendation
Business Matchmaking
Corporate Visits
CVC & VC Visits
Introduction to Key Players in the Supply Chain
Introduction to Taiwan's Design and Manufacturing Ecosystem
Market Validation

One month free co-working space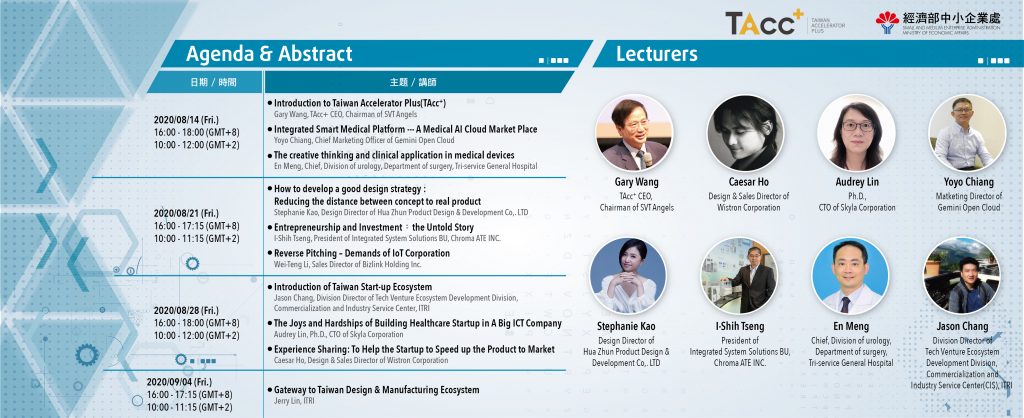 Taiwan Business Day 2020
The participants of the TAcc+ International Program 2020 Taiwan will be selected to pitch on October 8th, during Taiwan Business Day (TBD) 2020, organized by Taiwan Globalization Network-TGN, potentially winning one of four awards!
The winners of the Taiwan Explorer Award, are eligible to a 1-2 week explorer trip to Taiwan, which include:
free air ticket round trip Amsterdam – Taipei (if international travel is possible)
1 Free co-working space
Low-cost accommodation
A lot of matchmaking and mentoring hours.
A tailored-made package will be offered.
All items are subject to terms & conditions.
The winners have the chance to combine TAcc+ In-depth Business Development Services and Taiwan Explorer Award.
Please register soon to catch your place in TAcc+ International Program Webinar 2020!
Additional Information:
You are invited to submit your Business Plan if you want to be selected to join 'TAcc+ In-Depth Business Development Services Taiwan'.
Criteria: You register and join at least 1 webinar.
Deadline: September 11, 2020 (We will provide the upload link during the TAcc+ International Program (4x webinars)).
You may apply for your Taiwan Gold Card Visa Online.